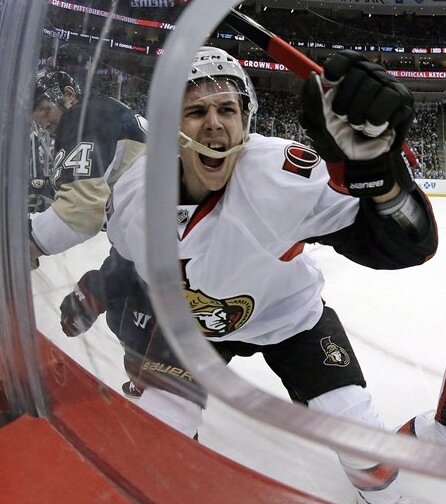 Cooke's eyes firmly on his target.
I wouldn't be the first person to call former Washington Capital and current Pittsburgh Penguins forward Matt Cooke the dirtiest player in the league.
And he proved it once again on Wednesday night, in devastating and disgusting fashion.
Near the end of the second period of the Penguins' match-up against the Ottawa Senators at Consol Energy Center, Cooke and Sens defenseman and reigning Norris Trophy winner Erik Karlsson were fighting for the puck at the end of the boards. With Karlsson facing the wall and in a vulnerable and defenseless position, Cooke declines the opportunity to hit the Swedish defenseman, instead lifting his left leg up and stamping down hard on Karlsson's ankle. The complete laceration of the 22-year-old's achilles tendon is visible through his sock.
This is far from the first time Matt Cooke has critically injured players in his career. Beyond receiving a 17-game suspension for a hit from behind on Fedor Tyutin two seasons ago and essentially ending Marc Savard's career with a hit to the head in March 2010, Cooke has been banned on five separate occasions, also escaping suspensions on several more questionable hits.
To me, this is the worst of the bunch. Of course, looking to give a player an injury as serious as a concussion is absolutely despicable, but deliberately causing a player the amount of pain a severed tendon must provide is well-and-truly revolting. Matt Cooke should be suspended for the rest of this NHL season, at the very, very least.
Scumbag.