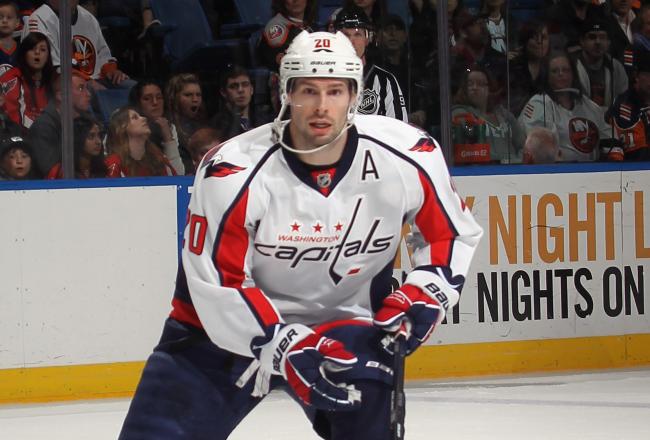 Troy Brouwer. Tank.
Coming off a key 5-0 shutout victory against Florida on Saturday, the Washington Capitals needed to kick-start an important three-game road trip with a win in the return fixture with the Panthers.
And with starter Braden Holtby coming off his best game of the season, the Cats turning to back-up Scott Clemmensen, Alex Ovechkin riding a four-game point streak, and Mike Ribeiro at the top of his game at the tender age of 33, it looked promising heading in. A Troy Brouwer clincher 32 seconds into overtime would give Washington a 6-5 overtime win.
Alex Ovechkin tussled with Kris Versteeg after a hit left Versteeg hurt on the ice. Punches appeared to be thrown, but the two stars were handed matching roughing minors instead, with Versteeg receiving an extra penalty for cross-checking.
The Caps would take a lead on that powerplay, with Tomas Kundratek (three assists in his last four games) feeding Mike Ribeiro in the slot and the latter shooting across the sliding Scott Clemmensen to put his team ahead. Ribeiro's fifth goal of the year came after just 4:26.
Former Caps forward Tomas Fleischmann would equalise only 5:52 later, with a pass to the front of the net deflecting off John Erskine's skate and past Braden Holtby. Then the Caps got into penalty trouble once again, and renowned Caps-killer Shawn Matthias would punish them, scoring the go-ahead goal at the 13:09 mark off a slap-shot in the high-slot.
The Caps tied the game shortly into the second, with Karl Alzner blasting home his first of the year from the point off a faceoff, but Florida would soon restore the lead after a nifty deflection from winger Peter Mueller. The Caps would once again tie it up, with Matt Hendricks converting a clever Alex Ovechkin pass right in front for his third of the year. But after Ovechkin nearly pulverized the crossbar, Florida would restore their lead, with Jonathan Huberdeau making it 4-3 at 18:26 of an eventful second frame.
Drew Shore's first career NHL goal would put the Panthers 5-3 up in the third, a clever baseball swing eluding Holtby, and it seemed that would be all the Cats needed. But Eric Fehr would get his first of the year on a good-looking deflection from a Mike Green feed, before Alex Ovechkin's fifth of the year tied it up on the PP with 2:49 remaining.
We were all secretly hoping it would go to a shootout so the Caps could finally showcase the likely-deadly Ribeiro-Wolski-Hendricks shootout trio, but we'll take the overtime win. Mike Ribeiro had a three-point night, Alex Ovechkin got his seventh point in his last five games, Nicklas Bäckström notched two assists, Braden Holtby made 27 saves, the Caps went 5-for-5 on the PK and 2-for-3 on the PP, Troy Brouwer scored the overtime winner, and the Caps won their second straight over the Florida Panthers 6-5 (OT) to improve to 4-8-1.
We won't talk about the game too much. Sometimes, it's better to not overanalyse, and just enjoy. The bottom line is that tonight's Caps team looked like the Caps team of 2008-09, that could be rubbish through 50 minutes but still take home two points. I like that Caps team.
In more important news, Cam Blackwood, our lead writer, published a story today about his good friend Harry Faulkner who died last Thursday of a heart attack at 18. We are trying to spread the story of Harry and make him well-known in the Caps community. Please, please, please, please read Cam's tribute piece for Harry, and if you can find it in your heart, tell your friends. Harry's friends and family would really appreciate it.
For now, enjoy this win, and goodnight.